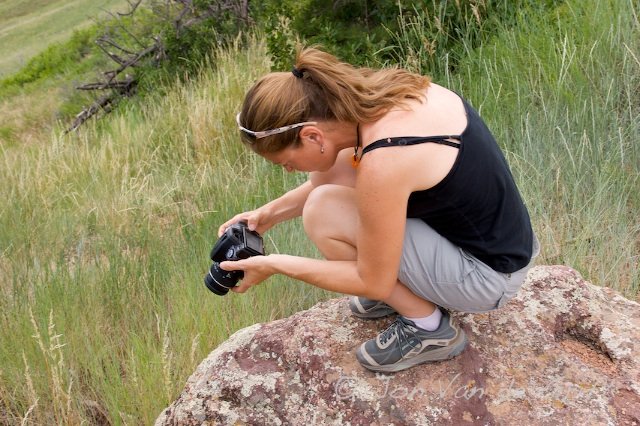 Introduction to Digital Photography I
Class Description
This introductory class will cover the basic concepts of photography to put you in control of your camera and help you capture the photos you want. Topics will include focus, exposure, composition, lens and other equipment selection, image organization, and basic editing techniques. This is a relaxed, small class atmosphere that is intended for beginner and intermediate photographers. We will spend the entire first day in the always photogenic foothills of the Colorado Front Range learning the essential photography skills that will improve your confidence in any shooting situation. The second day will be spent in a state-of-the-art visualization studio where we will review basic editing and photo management with simple and inexpensive software. We will also have a friendly, group critique of each student's photos from the previous day.
To ensure everyone receives as much personalized instruction as possible, class size will be limited to ten students. Minimum class size is three students (full refund issued if minimum class size is not met).
When
Saturday, June 7th, 9:00 a.m. – 4:00 p.m. (one hour break for lunch and group discussion), and
Sunday, June 8th, 10:00 a.m. – 4:00 p.m. (short lunch break in the studio). If significantly bad weather is expected, we will postpone the class until the following weekend.
Where
We will meet at an easily accessible location in southwest Boulder, which is about a 35 – 45 minute drive from Denver. Students are responsible for their own transportation, and I will be happy to help coordinate carpooling for those living in the Denver area. Detailed driving directions will be provided after registration.
What you need
We will be hiking a short distance on well-maintained, low-exertion trails along the Colorado Front Range, and our pace will be slow to allow us plenty of time to take photos. We will stay at moderate altitude (6000 – 7000 feet above sea level). You should be in good overall health and feel comfortable hiking short distances on trails. You will need the following essential items for the class (a complete list will be provided after registration):
- digital camera (point-and-shoot or
SLR
)
- memory card(s)
- extra battery
- light hiking shoes
- camera bag
Registration
Tuition is $150 per student for the entire two-day course. Registration is available on a first-come, first-served basis. Due to the small class size, your place can only be reserved by full payment, which can be made by check, cash, PayPal, or
USPS
money order. To register, simply send an email to:
artist@weatherchrome.com
. You will receive a prompt reply with additional course and payment information.
Questions about the class?
Please feel free to email me if you have any questions or concerns:
artist@weatherchrome.com
.